Halloween Inflatables Slashed Doesn't Deter Elderly Woman from Celebrating the Holidays
Home » Blog » Halloween Headlines
November 12, 2019 By Wendy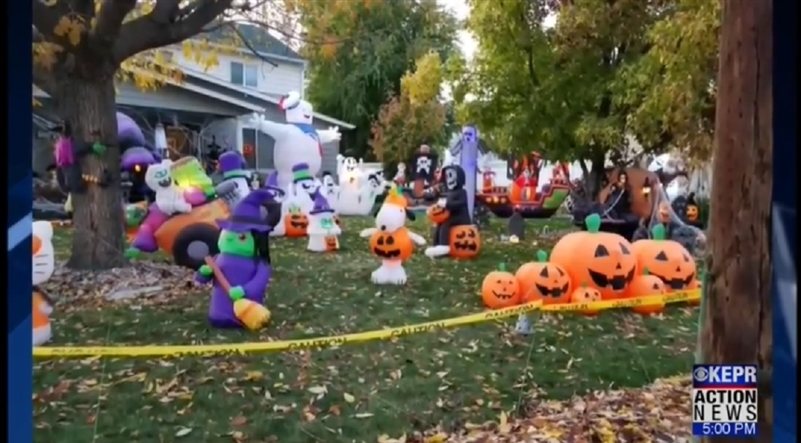 Home of 80-year-old Agnes Weins
Photo by:
KEPR
One home on McPherson Avenue in Richland, Wa. is always decorated with holiday inflatables, but this past Halloween 28 of 80-year-old Agnes Weins' Halloween inflatables were slashed.
Weins told a local news station, "It was an awful feeling." She went on to say, "I can't even explain it, how it felt."
The inflatable decorations took her hours to put up before the holiday, and she's done it for 20 years with the local community enjoying the view.
While the incident left Weins with an unsettling feeling at first, Weins found the strength to rise back up. She spent 12 hours repairing 27 or 28 slashed inflatables. She said in the interview, "You did it, but you didn't hurt anything because we'll put it back up and we did."
A reward has been put up by her neighbors to help find the vandal(s). Anyone with information on the incident that occurred on Oct. 16th may contact Richland police.
Now with a few weeks before Thanksgiving, her home is also complete with Thankgiving-holiday-themed inflatables.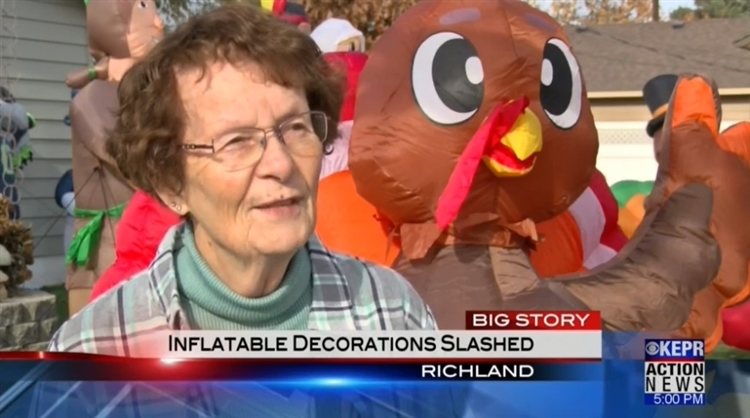 Photo via video shot from KEPR
See the full interview with news station KEPR here.