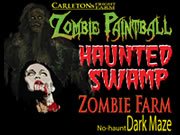 630 Sunnyside Blvd SE
Lake Stevens, WA
Details
Average Review

Scare Factor

Scary

Appropriate For

recommended for ages 12 and older - daytime corn maze appropriate for younger children

Organization Type

Commercial / For Profit

Listing Categories

Haunted Houses, Zombie Hunts & Shootouts, Haunted Mazes / Haunted Corn Mazes, Haunted Trails, Pumpkin Patches, Scream Parks, Hay Rides (Kid Friendly), Mazes / Corn Mazes (Kid Friendly)

More Info

Snacks & Refreshments, Outdoor Event(s), Covered Wait Area, Touching Not Allowed, Free Parking
They tell us there's nothing living in the cornfields...But we've heard their cries, their screams....
4 Attractions featuring our top voted Haunt Swamp themed cornfield and our Zombie Paintball & extended Zombie Farm excursion.
For those looking for a family friendly attraction, check out our flashlight maze and play Seattle Mariners trivia game and Farm Scene Investigation.
Fire pit rentals also available
Bring your friends - you'll need them.
ATTRACTIONS:
The Haunted Swamp (voted Best 2017 on WA haunt)
Blood curdling sounds haunt you as you navigate the trails. The Swamp Monster and his band of blood thirsty misfits are around every corner waiting to preying on you. Venture if you dare, but watch out for Susie. and her Doll of Death Room as Susie loves dolls, but she never plays fair. New this year is the Church of Ebey Hallow and Swamp Devils Crypt, where only the dead live. The Evil Clowns of Swampville have but one desire... to instill fear and dread into the already nervous travelers of the Haunted Swamp. Then when you think you have survived, the Flesh House's blood-crazed butcher carves into your fear. This haunt is only for the brave: enter the brave, exit the terrified.
Zombie Paintball Frenzy - Attraction combines a paintball ride and our Zombie Farm and takes about 20-30 minutes. Zombies floating down Ebey Slough have invaded the fields and turned the farm workers into the undead. Board the combat wagon and help eradicate the field of zombies. What you have to get of the wagon with no guns? Optional: enter Zombie Farm's dark trail and navigate back to the barn...watch out for Zombies! This will be a timed ticket attraction, so better get your tickets online.
Zombie Farm -This is a mini, so a shorter than the Haunted Swamp, but creepy fun. The farm's had a viral outbreak and Zombies prowl in the dark… yes, there are no lights! It's dark, dark, dark.... Keep quiet as Zombies react to sounds and will hunt you at all costs. Stay clear of the barn where Zombie feast on their victims. Don't be their next meal!
No-haunt Dark Maze -Don't want to be frightened, but not afraid of the dark? Explore our "un-haunted" corn maze with friends and family. Bring your flashlight, sturdy shoes and bravery.
Email Haunt Owner
Carleton Farms Pumpkinland is a daytime farm themed Family Fall Fun! Why stay for an hour when you play for hours? Pumpkinland has lots of family fun things:
Kids play areas, corn maze, zip lines, giant pumpkin jump pad, pumpkin canon, pumpkin donuts, food and more. Activities offered on certain days, so check website for actual days and times.
All photos and videos within this listing are the property of Carleton Farm Frights
Email Verified

No crazy parking or super long lines!!

We came here because we were tired of the horrible parking and long lines at all the Haunt's on Hwy9. iThe haunted swamp two thumbs up, it was 25 mins long and super scary!!!! I love the bridge keeper she creeped me out so bad! The chainsaw guy got me once and then creeped up on us a second time and I laid down in the corn like I was dying!! So good!!!

| | |
| --- | --- |
| Scare Factor: | |
| Fun Factor: | |
| Haunt Value: | |

Posted October 2018

Email Verified

The Best Ever

So scary and I would come back again and again. It was 30 mins long and I was scared the whole time!!!

| | |
| --- | --- |
| Scare Factor: | |
| Fun Factor: | |
| Haunt Value: | |

Posted October 2018

Scariest one

Yesterday I had the fright of my life after visiting the Carleton Farm Frights. Here at Carleton Farm, thrill seekers can take on the Zombie Paintball Frenzy and the Zombie Farm. The Haunted Swamp was the scariest of all the four attractions. This place is fun to come in groups of 4 or more where we scream loud out in fear and then laugh at ourselves. We really enjoyed the scare.

| | |
| --- | --- |
| Scare Factor: | |
| Fun Factor: | |
| Haunt Value: | |

Posted November 2017

2 out of 2 found this review helpful

Too expensive

This was way too expensive, and too few scares. There were no enough zombies to shoot in the wagon ride and the 20 paintballs got wasted. Moreover the makeup was appalling and it had started falling apart. It was not very well executed. We paid to get frightened but nothing happened and we are disappointed.

| | |
| --- | --- |
| Scare Factor: | |
| Fun Factor: | |
| Haunt Value: | |

Posted November 2017

Email Verified

Creepy

In the terms of props, sets and decors, Carleton Farm Frights haunt really beats the ones we visited earlier this year. For me, the scariest one was the characters Jack and Susie. The Evil Clowns gave us some nice scares. The Zombie Farm was very creepy. But it was fun shooting zombies. The trail through the dark farm really tested our courage. Costumes and makeup of actors were spot-on. Check this place out if you are fan of scares.

| | |
| --- | --- |
| Scare Factor: | |
| Fun Factor: | |
| Haunt Value: | |

Posted November 2017

Every attraction is scare

Carleton Farms Frights is one of the most scary haunted houses I have visited ever. I totally enjoyed being there. I will give total 5 star rating for the attractions they have. Zombie Paintball Frenzy, Haunted Swamp, Zombie Farm, Dark Maze, every attraction is different in its own way. Scare factor is almost 2 times more where you witness regularly at any other haunted house. I was scared to death in Haunted Swamp and I came out sweating. It is one of the best experiences I ever had. Prices are reasonable too which makes it a must visit this season.

| | |
| --- | --- |
| Scare Factor: | |
| Fun Factor: | |
| Haunt Value: | |

Posted November 2017

Creepy fun

It was creepy fun at Carleton, four attractions in all. Each fun and creepy than the other, the zombie paintball was one of our favorite. It had a paintball ride and the zombie farm. It took about 30 minutes. We had to ride a wagon and were given 20 paintball guns… the zombie scene included live zombies and the undead. Where as the zombie farm, a dark cornfield infested with zombies, did not have any paintballs, but we had to navigate our way through the dark fields avoiding them. It was an exhilarating experience. Nice part of it is that there is a no haunt dark maze which was good to explore with the entire family. Great place, will be back.

| | |
| --- | --- |
| Scare Factor: | |
| Fun Factor: | |
| Haunt Value: | |

Posted November 2017

Email Verified

A night out in Scare Farm!

I and my boy friend had a great time in the Carleton Farm. The place looks very haunted and scary from both inside and outside. The Zombie Paintball wagon ride was a complete different kind of experience. But the Haunted Swamp filled the air with scary noises and loud screams which scared me even more. But when we have come to get scared, then we have to enjoy every bit of the hauntedness. The props, actors everything looked awesome. I give all 5 stars for this place.

| | |
| --- | --- |
| Scare Factor: | |
| Fun Factor: | |
| Haunt Value: | |

Posted October 2017

Scary & Entertaining

Zombie paintball frenzy had paintball ride and visit to the zombie farm. Paintball ride was fun. You got to judiciously use the paintball gun or else, you'll run out of ammo. In the zombie farm, you don't have any guns.. you got to navigate the dark cornfield without alerting zombies. The beasts and other scary characters in the haunted swamp freaked us out. We screamed the most in the swamp. The flesh house will creep you out with its gore. Overall, it was very scary, but entertaining. Don't miss it.

| | |
| --- | --- |
| Scare Factor: | |
| Fun Factor: | |
| Haunt Value: | |

Posted October 2017

Swamp was Terrifying

Visited Carleton with my best friend.. the haunted swamp was terrifying. It has some of the scariest creatures you'll ever encounter in a haunt. The actors were professional. It was helpful that they were very explicit about the rules even before you walk through, which I appreciated. The zombie paintball ride was non-stop fun. My friend screamed and started to run when she was spotted by a zombie in the zombie farm. The scare factor was above par. Scare lovers should check this place out.

| | |
| --- | --- |
| Scare Factor: | |
| Fun Factor: | |
| Haunt Value: | |

Posted October 2017

Email Verified

Real frightening experience

The visit to the Carleton Farm Frights was really enjoyable. The Zombie Paintball Frenzy Wagon Ride combines a paintball ride and a Zombie Farm. Shooting the Zombies using paintball guns was fun. There will be live zombies and undead zombies as targets. The wagon will be armed with 20 paintball guns. The journey will end on the back door of the Zombie Farm. No paintball guns are there. Navigating back to the safety of the barn is the next challenge. It was really a frightening experience. Beware of the Zombies! Really enjoyed the visit. We will be back.

| | |
| --- | --- |
| Scare Factor: | |
| Fun Factor: | |
| Haunt Value: | |

Posted October 2017

Email Verified

Intense scary

Wow…..intense scary attraction. The Haunted Swamp was one of the scariest parts of the visit. The Swamp Master and his mutated beasts at every corner of the house would come after you. The character Jack and Susie was really incredible. The Doll of Death Room could freak you out. The zombies as well as the evil clowns were spine chilling sights there. The No-Haunt Dark Maze was really a different one. No creepy characters are in this corn maze.. but it is pretty dark. The actors have done their role well. For the terrors we saw, the prices are reasonable. Recommend this place.

| | |
| --- | --- |
| Scare Factor: | |
| Fun Factor: | |
| Haunt Value: | |

Posted October 2017

Email Verified

Scary Like Hell

Scary like hell! The highlight of Carleton was the haunted swamp. It was damn scary. In fact, it was the most terrifying haunted exhibit I have ever been to. It is not for the faint hearted. The death room could freak you out. I came out sweating and wet. The no-haunt dark maze was fun as well.. you can't see a thing. Bring your own shoes and flashlight. Ticket prices were OK. I will come again for sure.

| | |
| --- | --- |
| Scare Factor: | |
| Fun Factor: | |
| Haunt Value: | |

Posted October 2017

Email Verified

Different and scary

I have been to WA on a personal trip and my colleagues insisted me to Carleton Farms Frights in the free time. Already I heard many interesting things about this haunted house and after visiting I came to know that they aren't boasting one bit. There are total four attractions and each one is different and scary. They were no long queues. Management has made necessary steps incase huge turnout happened. I am thinking to visit this place sometime soon again.

| | |
| --- | --- |
| Scare Factor: | |
| Fun Factor: | |
| Haunt Value: | |

Posted October 2017

It was nice fun

I was really overwhelmed with the kind of gestures and friendliness these people offer here. Yes, this is a haunted place where we equally get scared to death, but they have facilities like fire pits where our group of friends sit around and have fun, to ensure safety alcohol has been prohibited. Also, they have daytime corn maze which is equal fun. The gravel parking, gravel waiting area all looks beautiful. The Zombie Paintball wagon ride was fun whereby we later got down and even get to shoot Zombies. It was nice fun. I will be back again you creepy creatures.

| | |
| --- | --- |
| Scare Factor: | |
| Fun Factor: | |
| Haunt Value: | |

Posted October 2017
All information on this page was submitted to Washington Haunted Houses and was believed to be accurate at the time it was posted. Please report any inaccuracies
here
.