Stalker Farms Haunted Attraction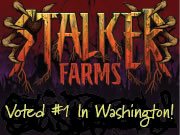 8705 Marsh Rd
Snohomish, WA
Blood Rot, in 2017 experience a new level of terror when you are trapped in quarantine with crazed farmers wielding sharp tools and infected with the brain altering disease the locals call "Blood Rot". Blood Rot, if it doesn't kill you... it will make you kill!
There is a magic show in town when Pogo the demented clown puts on "Abra Kadaver" for the unsuspecting locals. Did he really just saw that poor helpless girl in half?
Stalker Farms Haunted Attraction is a seasonal outdoor haunted attraction located in Snohomish Washington (right off Marsh Road and Highway 9) in Snohomish Valley. In addition the main immersive haunt experiences, there are many other activities to enjoy during your visit, including a paintball shooting gallery, bounce, human foosball, a haunted corn maze, food and drink, freak shows, and other entertainments along the midway.
We've been in haunting for over 10 years and we grow each year! Every year is a different and expanded experience!
Email Haunt Owner
Enjoy Stalker Farms during the daylight hours with kid friendly activities like a pumpkin patch, no scare corn maze, apple cannons, farmer foosball, food and drink, and more
All photos and videos within this listing are the property of Stalker Farms Haunted Attraction
Thumb Tacks and Bed of Nails was superb

I will just say it is the most deadly scare I have ever been to. People who love haunts and scares would have their blast here. There were two different haunted corn mazes. Very inspiring and scary though. The actors played their part well. The freak show with the Thumb Tacks and Bed of Nails was also good. The other attractions were Hunt for Zombies Ride, The Field of Screams, and The Last Laugh. One of the attractions was inhabited by a terrifying baby monster. Everything was super cool. I will be coming back next week.

| | |
| --- | --- |
| Scare Factor: | |
| Fun Factor: | |
| Haunt Value: | |

Posted November 2017

Email Verified

The Best Haunt

Me and my husband wanted to spent quality weekend and thus selected to visit Stalker Farms haunt. We bought VIP haunt experience online in advance which actually saved us few bucks. We went to the attractions like Blood Rot haunt, Abra-Cadaver haunt, and paintball shooting. I should say that a lot of thought was put into these attractions and props. There is so much to do at Stalker Farms and I believe one visit isn't enough. I am now pressurizing my husband to take me there another time.

| | |
| --- | --- |
| Scare Factor: | |
| Fun Factor: | |
| Haunt Value: | |

Posted November 2017

Scenes were bloody gore

It is always a great time at Stalkers Farm. There were loads of fun activities for the kids and they had a blast of time. There was so much to explore for both kids and adults. Blood rot was for the most strong hearted ones… the scenes were bloody gore and more intense than the other haunts. The corn maze had too many pop up scares that would actually make you jump. The clowns in the maze were creepy. VIP tickets took us to the front of the line and we had to experience all the haunts first hand. It was fun, we will always date with Stalker Farms for Halloween.

| | |
| --- | --- |
| Scare Factor: | |
| Fun Factor: | |
| Haunt Value: | |

Posted November 2017

Friendly & Cool Staff

I and husband had a great time at Stalker Farms. I was terrified in each of the haunts. The clown maze was pretty creepy to say the least. I was always afraid of chainsaws.. so that was a given. The blood rot maze wasn't as scary, but good enough. I could see some of the people screaming in front.. Tons of scary characters around. Great costumes, makeup and sounds that could scare anyone. The staff were friendly and cool. Ticket rates were not high. Definitely recommend Stalker haunt!

| | |
| --- | --- |
| Scare Factor: | |
| Fun Factor: | |
| Haunt Value: | |

Posted November 2017

Average scares

When they will realize that corn fields need actual corn? Worse, myself and my wife kept getting hit on the face by branches and jaggers on the wagon ride. She had a scratch on her face. Scare factor was pretty average too. I was not impressed to say the least. Not going back again.

| | |
| --- | --- |
| Scare Factor: | |
| Fun Factor: | |
| Haunt Value: | |

Posted November 2017

Email Verified

Scary enjoyable attraction

One of the scariest parts of the visit was the Harvest. It had freaked out my GF. The walk through the dark corn maze really frightened us. Creepy characters may jump out from behind the cornstalks startling you off your feet. The Pogos Fun Farm was really an enjoyable attraction. The theme as well as the storyline of the house stands out. Shooting the zombies was real fun. Prices were reasonable too. I recommend this to all scare lovers.

| | |
| --- | --- |
| Scare Factor: | |
| Fun Factor: | |
| Haunt Value: | |

Posted October 2017

Spooky and Fun

There were too many spooky entertainments under one roof at Stalker Farms. The sets were awesome and so creatively made. We did the paintballs and had fun shooting for the zombies. The staff were wonderful and hilarious. We had crazy time at the Apple cannon and also got a roasted cob of corn to munch on. The rat race was quite entertaining, we had a good laugh watching people in the act. Superb and looking forward to it again.

| | |
| --- | --- |
| Scare Factor: | |
| Fun Factor: | |
| Haunt Value: | |

Posted October 2017

Great Entertainment

This was the best I've seen this year. We won the tickets in a competition and so it did not cost any. The Stalker Farms had two different corn mazes. The Blood Rot Maze freaked me out. The strobe lights blinded me for two minutes. The clown maze also had some creepy clowns that made me scream. I was holding on to my BF's hand thereafter. Zombie paintball was total fun. Actors all did a great job. I did not expect the freak show with the thumb tacks and bed of nails. We spent nearly 2 hrs in the farm and it was great entertainment. Scare lovers should check this place out.

| | |
| --- | --- |
| Scare Factor: | |
| Fun Factor: | |
| Haunt Value: | |

Posted October 2017

Email Verified

Too short

It was disappointing. It was way too short for the price I paid for tickets. The attractions were also sub-par. The tickets were overpriced and the parking sucks. It needs a complete overhaul to draw people like me. I won't recommend this place to anyone.

| | |
| --- | --- |
| Scare Factor: | |
| Fun Factor: | |
| Haunt Value: | |

Posted October 2017

No scares, no fun

It was rainy and we got wet and cold. There were no covered areas and we were left to ponder on our own. A self guided walk through all haunts and they had kids stuff that was quite amateurish. The costumes and make up were looking haphazard. No scares and no fun. I don't recommend this to anyone.

| | |
| --- | --- |
| Scare Factor: | |
| Fun Factor: | |
| Haunt Value: | |

Posted October 2017

Screamed like hell!!!

We friends had a blast of fun in the Stalker Farm. Everything inside was as scary and perfect. The Clown Maze and the Chainsaw were very scary. The main attraction was the Blood Rot which scared my nerves. We could see people of all ages scream and yell like hell. This place is an entertainment for all age groups, not kids though. The actors were great and friendly. We also got to shoot some Zombies. But the nicest part is the tasty food which consisted of Carmel apple cider. You can never miss the sunset here, so beautiful! Worth a visit.

| | |
| --- | --- |
| Scare Factor: | |
| Fun Factor: | |
| Haunt Value: | |

Posted October 2017

Blood Rot was horrifying

I with a group of friends visited the Stalker Farm this Halloween and we had a great time there. The first one, Blood Rot, was scary to say the least. The characters Jebidiah and Jedidiah scared the crap out of us. Chuck, the resident butcher, was a horrifying character indeed. The terror continues as we enter the Adba- Kadaver. The magician Pogo was really incredible. The actors in both Blood Rot and Adba-Kadaver deserve five stars. Their performance were great. Ticket prices were reasonable. Overall, the visit was really enjoyable. We will be back.

| | |
| --- | --- |
| Scare Factor: | |
| Fun Factor: | |
| Haunt Value: | |

Posted October 2017
All information on this page was submitted to Washington Haunted Houses and was believed to be accurate at the time it was posted. Please report any inaccuracies
here
.